Don't just take our word for it.
Read what our residents say.
3/10/22 Quarters of Cambridge provides all that we need in apartment living. The personnel are responsive to our requests and needs. Special gifts are given for birthdays, holidays, and other occasions. Our questions are answered immediately. Ice and snow are removed from the walks, steps, and streets in a timely manner. Everyone in leadership at Quarters at Cambridge is friendly and helpful, and we are treated with care and concern. Every aspect of our life at Quarters at Cambridge is outstanding.
D&C
Current Residents
1/19/22 D.S. says, "My priorities where met – and exceeded!" When I decided to relocate to Wichita, I had a list of priorities that I wanted to be met by the community I chose for my new home. Those priorities included professional management, skilled and regular maintenance, safety in a quiet setting, proximity to retail, medical, and entertainment facilities, and friendly neighbors.
All of my priorities were met – and exceeded – by Quarters at Cambridge.
There are numerous apartment communities in the Wichita area, but not one of them holds a candle to 'Quarters'. I'm delighted to live here, and I believe you will be, as well.
6/12/20 "Thank you" for a job well done and making living at the Quarters at Cambridge such a great experience."
I just returned from moving our son to Alabama for his first job after graduation.  He moved into a one-bedroom apartment with accommodations similar to those here at the Quarters (on paper, website, and phone calls anyway) but that's where the similarities stopped.  I was quickly reminded and thankful for the unique experience that comes with renting at the Quarters.  Starting with the very friendly and helpful staff, the spotless and totally move-in ready units, and the fact you can see the exact unit you will be renting, to the extra touches that are helpful when moving in like hand soap and hand towels, toilet paper in the bathrooms and even a shower curtain already hung up in the bathtub.  To the very prompt and capable staff when maintenance is required and the overall pride and upkeep that is given to this unique community.  These are all just a few reasons I was thankful for living here at the Quarters at Cambridge and reminded of when moving our son to his new apartment.
So during this difficult time in our country with so many negative things happening, I wanted to say "thank you" for doing a job well done and making living at the Quarters at Cambridge such a great experience.
With gratitude,
BWW
4/28/20 RNW Highly Recommends Quarters —
I can't imagine a better apartment setting than the Quarters. The grounds are beautiful & kept up impeccably. It's quiet, serene and feels like a little village rather than a complex. The entire staff, from administration to maintenance workers are efficient, responsive, & kind. We've been here 6 months. I was going to wait a year to write my reviews just to live through all the seasons. But we've been here through all of winter & into spring (which is glorious) and I think I've seen enough.
More regarding the staff. Until the virus happened each apt was going to get a pizza for March Madness. They left Easter candy at our doors. We're getting geraniums for May Day. And believe it or not, they are doing the delivery for us if we choose to order lunch from the nearby Cambridge Market restaurants during this quarantine time. They are beyond belief. And we are so grateful to them and to be living here during such a time (or any time :).
I really can't even describe it to you. We have a duck from the little pond that drinks out of our bird bath. We had 25+ wild turkeys that wandered through our front yard one day this winter. If you like peaceful, quiet surroundings, well-kept apartments (interior & exterior) & delightful staff, then you've found your home.

April 3, 2019
Thank you for providing such a wonderful place to live. It is quite unique and I loved living at the Quarters. I never once had a noise complaint or a concern for who was living around me. The support your maintenance teams provided was exceptional.
E.S.
Former resident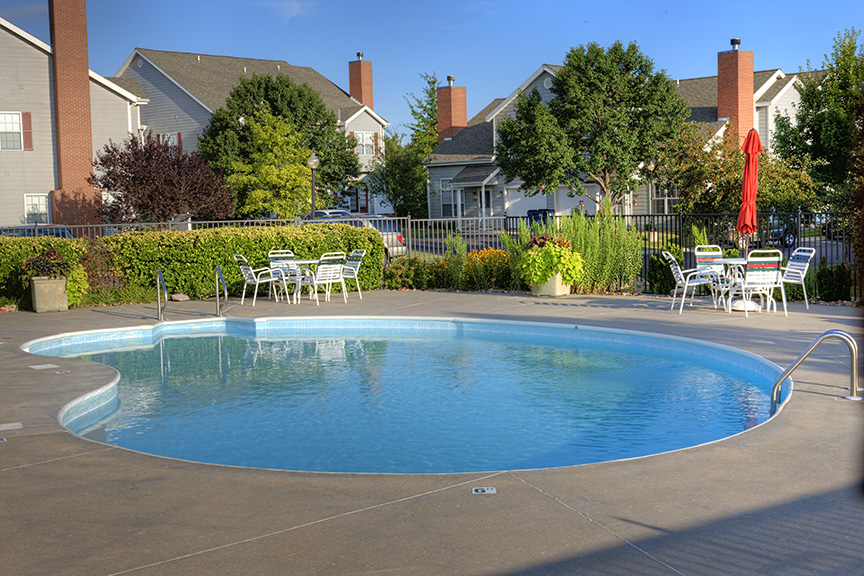 March 2019
The Quarters at Cambridge is a beautifully landscaped complex with the perfect east side location. It has everything we were looking for, including a pool and a gym. We highly recommend moving in!
J & N
Current residents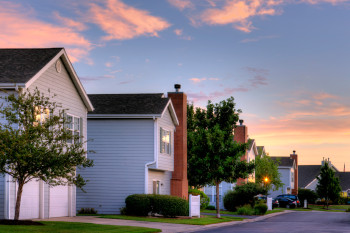 March 28, 2019
I just want to let you know how thankful I am to have made the Quarters at Cambridge my new home when I moved to Wichita a little over a year ago. I love living here!
For starters, the amenities are above and beyond what other complexes provide. The free basic cable and internet are things I use every day. And where else can you find garbage pickup at your door twice a week? My townhome was spotless when I moved in and my appliances were upgraded and work great. My out-of-state move here was hectic, so it was a welcoming surprise to walk inside and find a crisp, new shower curtain already hung, hand soap and towel at every sink and starter laundry and dish detergents.
Every maintenance inquiry I've made over the past year has been promptly and professionally addressed with a smile. Whenever it snowed this past winter, not only were the complex streets cleared before the morning work rush hour, my driveway, porch, patio and sidewalks were shoveled as well! I'm a frequent online shopper and I never worry about my package deliveries because the office accepts them and logs them in. When I pick them up, someone on staff almost always offers to carry them to my car!
While I love my three bedroom townhome, which includes a wood-burning fireplace and attached garage, the best thing about the Quarters is the staff. There is very little turnover; in fact, I've learned that most of them have worked here for years. That, along with the fact that the complex is locally owned, are major factors in making this a great place to live.
The staff does so many "extra" things for the residents that simply aren't done at other places run by out-of-state management companies: chocolate candy treats hung at my door on Valentine's Day, a free pizza during March Madness basketball season, free geraniums in time for Mother's Day, occasional "Rise & Shine" breakfast goodie bags, an annual summer barbecue with live band and an annual holiday party. I'm probably forgetting something-you just do so many thoughtful things for the residents.
So, THANK YOU for everything you do for us here! The Quarters is simply a wonderful place to live. I'd highly recommend it to anyone who is looking for a place where you are truly made to feel like you are home.
P.H.
Current resident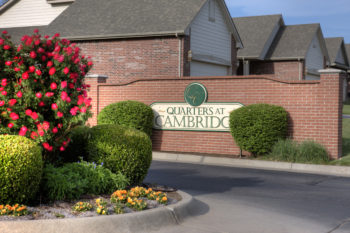 February 5, 2018
I would like to thank your office team and all of your maintenance team for your amazing support and help. I really would like to let you know that our stary at your property has been a great experience for me and for my family. It was a great choice I made when we ended up staying at your property as I always felt that my family will be safe and sound while I am away traveling for work. You have always been very responsive to any request.
I'd highly recommend the Quarters at Cambridge to friends and co-workers. The Quarters will for sure be my only choice if I came back to Wichita. Please thank all your team for me, you have such an amazing crew.
Former resident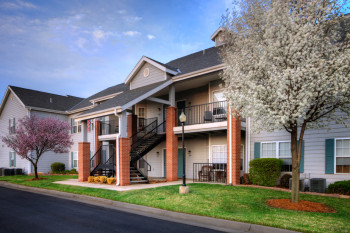 August 15, 2017
Many thanks to the management of Quarters at Cambridge for installing my new apartment storm door. What a difference it will make in terms of light, retention of heat and cooling, and most of all ventilation!
Your continuing improvements to the property are much appreciated.
C.H.
Current resident
March 22, 2016
We've lived here for about 3 years and we would stay if we hadn't found a really good deal on a house. This is the best place to live in Wichita, hands down. The customer service is second to none. The staff will spoil you. Some of the people we've met have lived here for ten years or so and don't want to leave. When we're older and ready to downsize, I'm definitely coming back.
Former resident

March 17, 2016
I've been living at the Quarters for about two months and the office staff is very nice, professional and quick to solve problems. The property is well-maintained and it has been a very quiet place to live.
G.M.
Current resident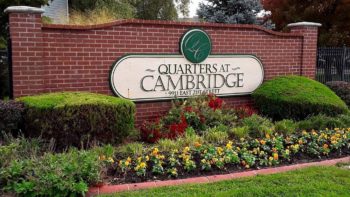 March 16, 2016
Thanks so much for making the arrangements to have my HVAC duct system cleaned! I enjoy living here and this is the nicest home I have ever had.
Thanks for everything!
M.W.
Former resident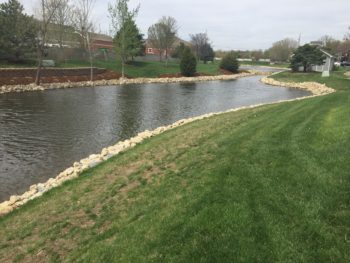 February 5, 2016
We loved living at the Quarters at Cambridge. Everyone was extremely kind and respectful. It felt much like a family to our family transplanted from our home in California. We have since moved to Texas, but we would move back in a heartbeat.
Thank you Quarters at Cambridge for all that you do for your residents!
Former resident
December 14, 2015


Pleasant, almost resort-like setting, wonderful staff, locally owned. A guy struck up a casual conversation with me one day and midway, asked me if I was happy. I thought he was a resident. I found out later from somebody else he is the owner! Wow!
K.M.
Former resident

November 2015
Perfect area for restaurants and shopping. Great storm shelter and parking is never a problem. Felt secure, as gates function properly all of the time. Quiet east-side community. I really enjoy watching the geese and ducks. The property is very well maintained.
D. G.
Current resident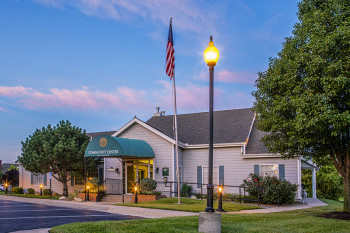 October 2015
Very well-maintained apartments. Very personable and responsive staff. Listens to all input and acts very promptly. Management works directly for the owners, not for some distant out-of-town management contractor. Truly a classy location in East Wichita.
K.M.
Former resident
April 4, 2015
Outstanding! Superb! It is like staying at a five diamond hotel. Only it is your home.
G.T.
Former resident